Completely aside from the subjects of fictional reconstruction, pop culture paganism or writing as a magical act, there is the topic of the actual books that I use a magician. I have a relatively small physical library of books and zines on magical and religious subjects, and a larger library of ebooks.
I also have my notebooks. There are the everyday journals with notes on what I'm reading, or things that happened, or tracking dreams. In the last few years I've finally made the transition to using nicer books as well, using handwriting and illustration but also scrapbooking techniques to fill them with useful information, portable altars, and art spells. The result is a magical commonplace book full of things that are relevant and useful to me.
My everyday notebook/planner is highly influenced by the Bullet Journal method and the Metaphysician's Day Planner, but is pocket-sized. Sometimes I'll use one that's pre-printed with dates and so on but I often end up back in a blank book where I have plenty of room for other things alongside my weekly planning. Notes, sketches, to-do lists, magic and non-magic all together. If you put everything in one place, you'll always know where it is. Then the stuff that I refer back to gets moved into the nice magic book for long-term reference. If you're interested in learning more about this you can refer to the Bullet Ephemeris and How Bullet Journaling improved my magical practice.
As for the reference grimoire, I definitely am a little more extra in my grimoire pages than I am in my everyday journal. I often use colored pens, and I'll sometimes use stickers or paste in cut images. As an example, here are a few pages from a previous magical book.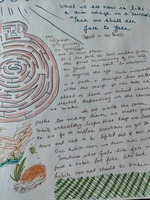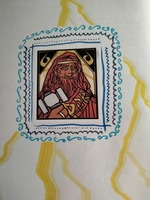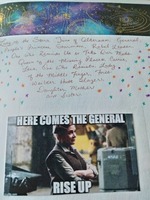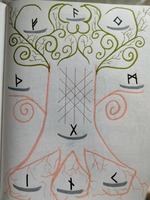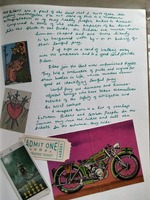 This is my current book. I saw it online and fell instantly in love with it, in part because it looked very much like a magical book I had recently described in a story I was working on. I'd never actually owned something that screamed "magical grimoire" like this before and it's so over-the-top that I almost didn't get it, but I love it. I feel like I'd been teaching myself to write in nice books, even if I make mistakes, just so some day I could use this book.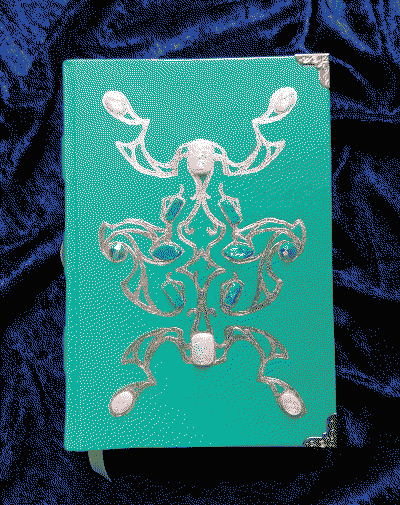 And yeah, I misspelled something on my very first page. Nothing terrible happened. I put washi tape over the error and moved on.
I'm not from a tradition so there isn't anything I'm "required" to put in my books, nor is there a necessary format. I do always name them, and record the month I start using them. One thing that I always do now is tracing my hand on an early page and filling it in with patterns. I did it once without intending it to be an ongoing thing, but my kid saw it when she was looking through my filled-in books as she started her first "serious" grimoire (at nine! so perhaps not SO serious) and replicated it in her book with her own hand, and then I did it in my next book, so now it's become part of our family tradition.
I have a whole YouTube playlist of grimoire flipthroughs and witchy journal setup videos for inspiration. My favorite grimoire inspiration definitely comes from Benebell Wen's posts and videos about how she uses her Book of Methods:
Sometimes I also like to look at other places besides Book of Shadows walkthroughs for aesthetic inspiration. The historical books and journals are often fascinating to look at, as well as modern travel journals, the notebooks of famous creators, art journals, and even fictional magic journals. While there's no specific level of art or calligraphy skill that's necessary for a magical grimoire or book of shadows, and I've gotten plenty of mileage from quick, loopy handwriting on a page, I have found that looking at aesthetic inspiration makes me want to work on my book, and working on my book ends up involving the research I've usually been meaning to get around to but haven't done yet. Like most areas of magic, whatever works for you is great, but often I find an aesthetic I resonate with works better, adding a little extra echo to my work.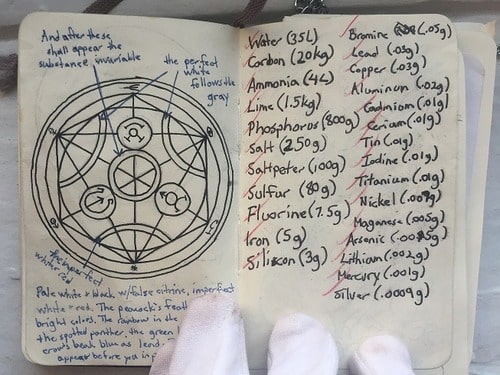 Edward Elric's Alchemy Notebook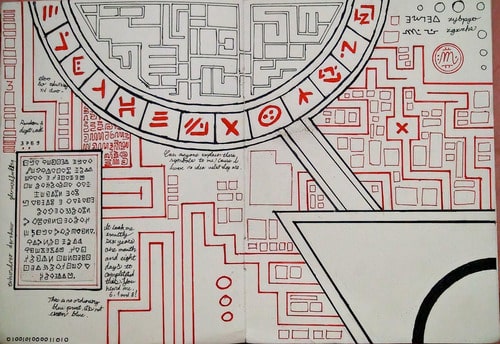 Gravity Falls Journal 3 Replica - Portal page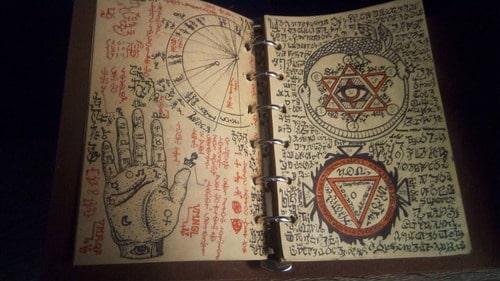 Reddit Post
Additional Links: